WHO IS PANTANG PLUS?
Preferred Premium Confinement Service Provider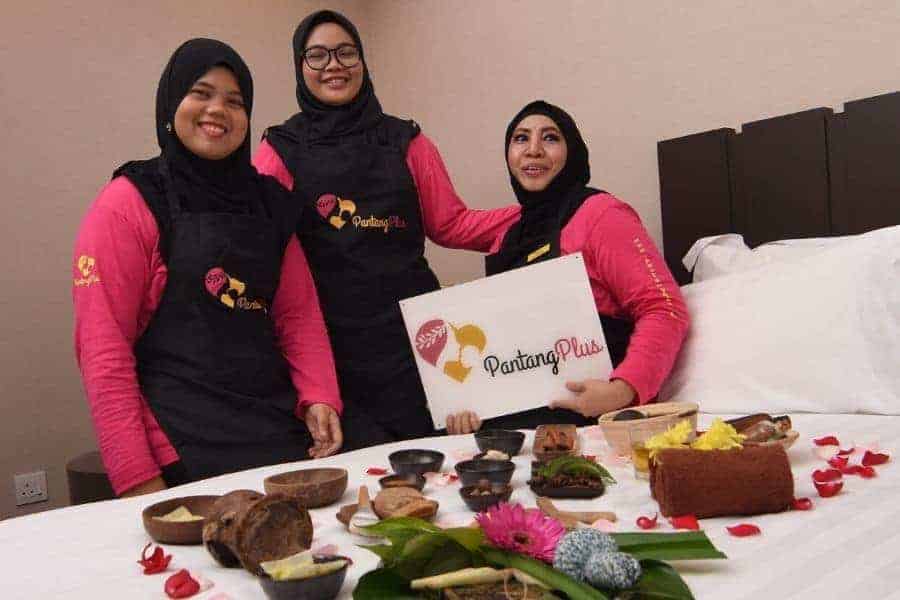 Do Not Make The Same Mistake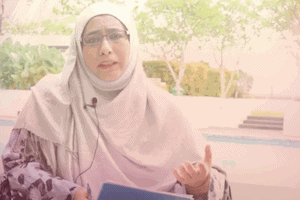 "
Semasa berpantang anak pertama, ada seorang makcik tukang urut selepas bersalin ini, mengurut belakang saya dengan kaki dia.
Tiba-tiba, dia tergelincir sebab berminyak. Dia terjatuh dan terhentak belakang badan saya.
Dipendekkan cerita, tulang belakang saya hampir retak. Akibatnya, saya terpaksa buat 'check-up' dengan doktor pakar selama 6 bulan."
– Puan Zamzana Mohd Arifin
We Have The Experience and Expertise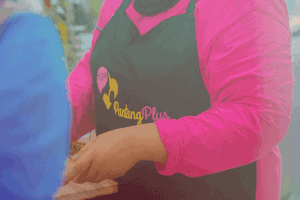 Tambah Puan Zamzana lagi,
"Antara sebab PantangPlus diwujudkan, saya tidak mahu orang lain merasai keperitan berpantang seperti saya kerana salah pilih tukang urut wanita".
Di PantangPlus, semua bidan atau tukang urut selepas bersalin kami disaring terlebih dahulu, terlatih, berpengalaman dan mempunyai sijil. Paling penting, semuanya orang tempatan. Bukan orang Indonesia.
Sudah lebih 8 tahun kami menjalankan servis berpantang premium ini. Urutan selepas bersalin bukan sekadar tradisi, tetapi lebih dari itu.
We Understood, Deliver A Baby Is So Tiring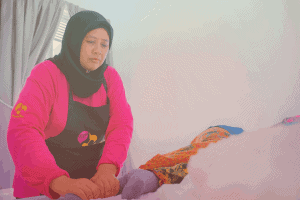 Bersalin itu penat. Sangat penat. Jadi kami mahukan anda dapatkan cukup rehat selepas melahirkan anak dan dapatkan kembali tenaga seperti biasa.
We Care About The Community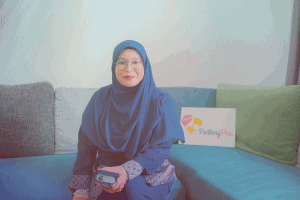 Kami terdiri dari entiti keusahawanan sosial dari Program Pecutan MaGIC (
MaGIC Accelerator Program
) yang sangat prihatin dan peka dengan masalah sejagat, terutama sekali yang melibat kes
remaja yang melahirkan anak luar nikah.
Tanggungjawab sosial kami adalah membentuk generasi muda ini supaya menjadi ibu bapa yang bertanggungjawab dalam mendidik dan membesarkan generasi mereka.
Seterusnya, ini dapat memperkasakan mereka dengan ilmu pengetahuan dan kemahiran untuk berdikari bagi menjana pendapatan untuk menampung keluarga.
Kami juga percaya, dengan mendidik remaja-remaja ini perihal kemahiran keibubapaan dan kelahiran bayi, mereka akan menjadi ibu yang bertanggungjawab dan membesarkan anak-anak mereka secara penuh bertanggungjawab juga.
Untuk makluman, terapis kami bukan dari golongan remaja hamil luar nikah.
We Share The Revenue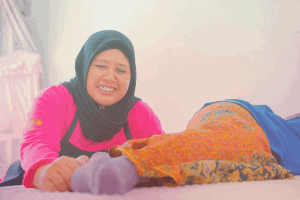 Duit
bukan
matlamat utama kami. Kami bukan mahu untung
sorang-sorang
. Kami berkongsi rezeki dengan
bidan dan tukang urut dari golongan B40
untuk meningkatkan lagi taraf hidup mereka.
Setakat ini, sudah lebih RM1 juta duit yang kami sudah bayar pada mereka.
Bukan setakat itu, kami ajar mereka cara untuk mengurut dan melayan pelanggan dengan lebih profesional.
Andai kata mereka mahu buat sendiri, mereka boleh praktikkan ilmu yang kami bekalkan.
Jika ambil pakej dari kami, anda bukan sekadar sokong kami. Anda sebenarnya menyokong dan membantu tukang urut ini berdikari dan mencari rezeki.
Fikirkan impak yang bakal anda buat untuk mereka dan keluarga mereka.
Scholarship for B40
We also provides scholarship for B40, so that they can work to support the family.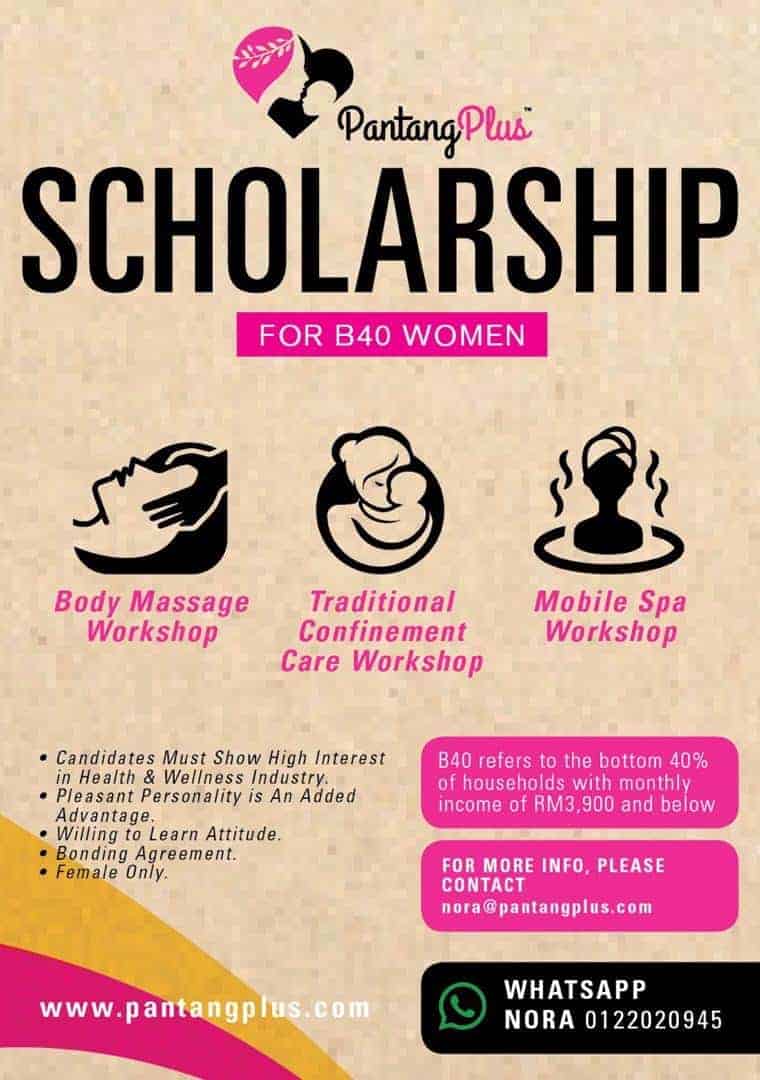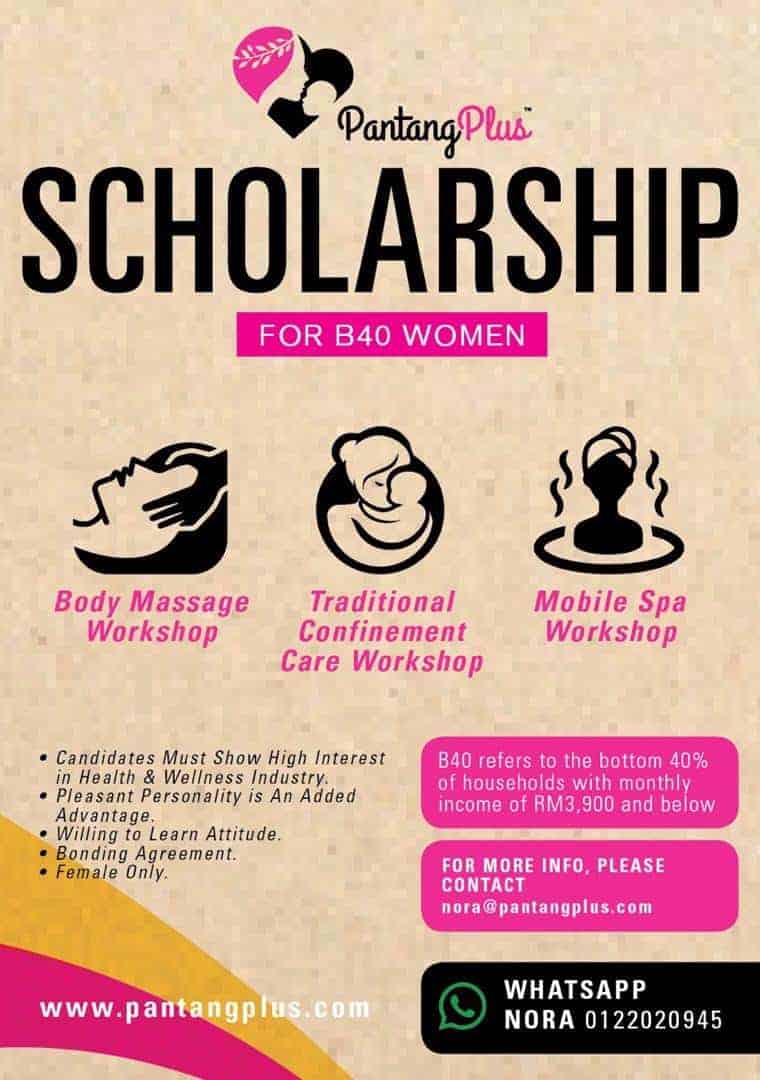 List of Media Mention and Coverage
2019
2018
2017
2016
2015
PantangPlus dalam Rancangan NONA, TV3
OUR BIG WHY: Why We Do What We Do?
Confinement is a common practice for post-partum mothers in Asia, which is proven as one of the most effective health aftercare, mentally and physically.
We believe that confinement therapy is a must and can be brought to homes by trained practitioners.
PantangPlus.com is a tech platform for mothers-to-be to book and enjoy complementary confinement therapies the traditional way but by reliable therapists. With PantangPlus.com, booking for post-natal care rituals are worry-fee, no-hassles, easy and comfortable.
Running The Enterprise For A Good Cause
"I was approached by a shelter home requesting to educate its residents about confinement care. The shelter home protects unwed teen mothers who found themselves pregnant out of wedlock.
The teens stay at the shelter during their pregnancy and confinement period due to social stigma, and needed all the help they could get learning how to deal with their confinement.
While there, I came across a different problem: Urban poverty women asking for confinement jobs.
I decided to launch PantangPlus so that these women (and other identified beneficiaries) can be empowered with life skills to become economically independent mobile therapists.
Doing business with us is a joint-commitment towards entrepreneurial social responsibility."
– Puan Zamzana Mohd Arifin
Social Enterprise Accreditation Certificate
We are an accredited Social Enterprise entity under Ministry of Enterpreneur Development and Cooperatives.
We empower B40* Women as our post natal therapists, we offer job placement for them to be financially independent, resourceful and independent.
*Bottom 40 (B40), is indicated by the household with a mean of the monthly income of RM3, 860 (Eleventh Malaysia Plan, YEAR). The 2010 statistic shows that there are 2.7 million Malaysian households categorized under the B40 category with 56 percent experiencing urban poverty.
According to Elebrashi 973 Rohaiza Rokis et al. Opción, Año 34, Especial No.16(2018): 968-984 (2013), social entrepreneurship is a mean for social development through economically sustainable and viable model which focuses more on public wealth instead of private ones. He also emphasized how social entrepreneurship is vital as it develops new social institutions, leading to social movements, resources mobilization and impact sustainability. This means that unlike Schumpeter's entrepreneurship theory which focuses on economic growth, social entrepreneurship focuses on a more holistic and long-run approach by improving the socio-economic wellbeing and initiating ways to sustain the social change (Dumbu, 2014; Faisal et al., 2016; Udanoh & Zouria, 2018).
Apart from the different approach, social entrepreneurship shares similar roles with business entrepreneurship. This includes providing job opportunity, enhancingeconomic growth and innovation, promoting products and service quality also boosting productivity which leads to economic flexibility, social benefit as well as environmental profit in the community (Hisrich et al., 2007). Kazmi et al. (2016) explained this further by stating how social entrepreneurship helps in widening access to financial sources, promoting the use of social innovations to reduce social problems, granting people sense of empowerment which contributes to income creation for the poor. This indicates that social entrepreneurship has not just contributed in financial terms, but also enhances social inclusion, allowing the poor to participate in economic activities and freeing them from the poverty trap.
This is also supported by several other kinds of literature involving cases of various regions around the globe such as Tanzania, Pakistan Kazmi et al. (2016) and China
(Naminse & Zhuang, 2018).
More Reference:
https://www.researchgate.net/publication/330214730_Poverty_women's_empowerment_and_social_entrepreneurship_among_b40_urban_women_in_Malaysia
Sustainable Development Goals (SDG)
What SDG means?
The Sustainable Development Goals (SDGs), also known as the Global Goals, were adopted by all United Nations Member States in 2015 as a universal call to action to end poverty, protect the planet and ensure that all people enjoy peace and prosperity by 2030.
We promote sustained, inclusive and sustainable economic growth, full and productive employment and decent work for all.
Why SDG is Important?
The SDGs are extremely important because they are a powerful advocacy platform to support the implementation and the monitoring of the UN Convention on the Rights of Persons with Disabilities.
PantangPlus Sustainable Development Goals
In PantangPlus, we advocate 3 Sustainable Development Goals (SDGs) for transformation :
Goal 1: No poverty
Goal 3: Good Health and Wellbeing
Goal 8: Decent Work and Economic Growth
Careers
Job Vacancies Available:
IT
Operations
Sales
Marketing
Business Development
Product Development
Kindly deposit your resume at [email protected]